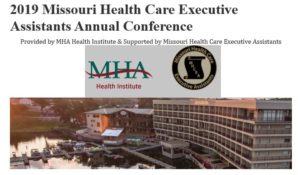 Thursday, April 4, and Friday, April 5
Camden on the Lake Resort
2359 Bittersweet Road
Lake Ozark, Mo.
573/365-5620


Register on or before Friday, March 22.
Thursday, April 4 – Pre-conference (Attend one, two or all sessions.)
Pre-conference Registration Fee — $50 (lunch included)
Thursday Evening Dinner — $35
Friday, April 5 – Conference (The conference fee includes the Thursday evening social, refreshments, lunch and program materials.)
MHCEA Member Registration Fee — $150
Nonmember Registration Fee — $180
Hotel Reservations
Online reservations: www.camdenonthelake.com
Group code: MHAE0419
Request MHA Health Institute room rate: $119+ tax night, single or double occupancy
Hotel cutoff date: Monday, March 4
Agenda
Thursday, April 4 — Pre-conference
This is an instructor-led workshop; you do not need to bring a laptop.
8:30 a.m. — Registration
9:30 a.m. — Outlook Deep Dive
Gini von Courter, MBA
Microsoft Training
Buckley, Mich.
More than half of administrative professionals surveyed list Microsoft Outlook as their most-used application. Everything that makes us better/faster/stronger with Outlook improves our whole work day — so let's get to it. After a quick review of Gini's favorite tips, we will focus on powerful but lesser-known Outlook features that will make you more efficient with Outlook.
Content for this session includes:
Gini's top 10 tips for Outlook
conditional formatting for messages
automation with rules and Quick Steps
sneaky uses of the drafts folder
creating and using templates
creating and using Quick Parts
11:30 a.m. — Lunch (provided)
12:30 p.m. — A Deep Dive into Word
Gini von Courter, MBA
Microsoft Word is software we use so often we believe we know it completely. It's basically just a glorified typewriter, right? What more is there to know? In this session, we'll focus on power user features of Microsoft Word — features that are useful no matter what type or length of document you are creating. If you have a question about a document you are working on, save it on a USB drive and bring it to the Q&A session.
Features to be covered include:
styles (quick review)
advanced techniques for find and replace
creating and using bookmarks and cross-references
inserting fields
creating, saving and using templates
using macros to automate Word
working with Word tables in Excel (and why you'd want to)
3 p.m. — Break
3:15 p.m. — Microsoft Office Q&A
Gini von Courter, MBA
Have questions about a Microsoft Office app? Do you have a problem that is stumping you and perhaps your IT folks, too? Bring your questions to Office Q&A. Gini von Courter and a handful of your closest MHCEA colleagues will provide answers, or at least remind you that you are not struggling alone! If you have an issue with a specific document or type of document, please bring a sample document on a USB drive. Be sure to mask or remove any sensitive document data.
5 p.m.- District Meetings
5:45 p.m. — New Members and First-Time Attendees Reception
6:15 p.m. – Welcome/Social Hour
Take this opportunity to renew friendships and welcome new members or those attending for their first time. It is sure to set the pace for a conference that is both informative and educational.
7 p.m. — Networking Dinner (ticket required)
Relax while dining and networking with your peers. Casual dress.
Friday, April 5
7 a.m. — Breakfast (on your own)
The hotel restaurant will have a breakfast buffet available.
8 a.m. — MHA Overview: Program and Services
Daniel Landon
Senior Vice President of Governmental Relations
Missouri Hospital Association
Jefferson City, Mo.
Daniel Landon will present an overview of the Missouri Hospital Association, as well as issues facing health care in today's fast-paced world.
8:45 a.m. — Dress for Success: Taking a Step In Your Best Direction
Layla V. Earl, FACHE
Director, Patient Financial Services
Phelps Health
Rolla, Mo.
What does dressing for success mean? Discussions will range from being your own brand ambassador to accepting "you" as you are now, and how that acceptance propels you to being your best. #realtalk…
9:45 a.m. — Break/Hotel Check Out
10:15 a.m. — Business Writing Tune-Up
Rhonda Scharf, CSP
On The Right TrackTM Training & Consulting Inc.
Trainer & Author
Ottawa, Ontario
Let's face it — times change. Fashion changes, music changes and language changes. If this weren't true, we all could be speaking the same way Shakespeare did (which makes me glad that language changes).
If language changes, so must our writing styles. Just because it was "right" when you were a kid, doesn't mean that same writing or grammar rule is still right. Grammar and business writing is evolving as well, and if we are professionals, we must evolve with it.
This session is going to bring your writing skills up to date. Participants will learn the following.
how to create polished business documents
avoiding run on sentences, comma splices and transitions
watching the hot spots and how to avoid them
grammar refresh (honestly this won't be painful!)
red flags to watch for (lie or lay, bi-weekly or semi-weekly)
easy memory tricks to help you (e.g. remember 'I before E except after C?')
The danger of not keeping your skills up to date is your reputation. You can fix that!
Noon — Lunch and Annual Business Meeting (lunch provided)
1:30 p.m. — Make the Leap to Remarkable
Rhonda Scharf, CSP
I get it, you're good at what you do — but are you remarkable? Do you really stand out as "one of the best?" And if you've been doing your job for a while now (let's say, more than five years), how do you know if you are that good anymore? Are you relying on your own self-taught skills to make you remarkable? Think about how much has changed in the last five years alone.
The reality is that we learn on the job. We learn as the tasks get sent our way. There isn't a "manual" on what this job means anymore. The administrative role isn't what it used to be. It probably isn't what it was when you started — and it certainly won't look like this in 10 years either. Are you keeping up? Are you aware of the changing dynamics to be an administrative professional in this day and age?
Often, we don't get a lot of opportunity to attend training, to keep our skills cutting edge or to even know how we compare in the marketplace. If you've been unfortunate enough to have to look for a job in our current economy, you probably realize that your skills sometimes are not enough. What is going to make you valuable to your current company, and what will make you stand out among a stack of resumes and interviews?
So, to celebrate what we do, we are going to talk about the top 10 things you need to do to "Make the Leap to Remarkable!"
Objectives:
self-assessment tool to see how you really rank as an administrative professional in 2019
100+ secrets and tips to make you stand out at work
things to do — and things not to do (and they've changed over the years, so don't assume you know them anymore)
what skills are needed in 2019 and what skills have become redundant
3 p.m. — Adjournment
Scholarship Opportunity
MHCEA will award scholarships for this conference. Please view the scholarship criteria and complete the application.
Charitable Organization
This year's MHCEA charitable organization is State Fair Community College's 14th Annual Hire Attire. Help prepare students join the workforce by donating gently used men's and women's professional career clothing. Dress and dress casual clothing, such as jackets, slacks, shirts, ties, blouses, skirts, suits, dresses, sweaters and accessories (scarves, purses, belts, etc.), can be donated. Donated items first will be sold to students, then SFCC employees for $2 each, then what's left will be available for sale to the public for $1 per item. Proceeds from the Hire Attire sale fund student scholarships and Hire Attire awards. Cash donations also are accepted and will go to the Hire Attire Endowed Scholarships fund.
MHCEA Membership Dues
If you are not a member of MHCEA and would like to join for $30, please submit payment with your registration fee or join online.